Economic Development
 

Rationale

With no major employers on the island, Eleutherans tend to be very resourceful and entrepreneurial. Local residents typically engage in a variety of economic ventures with most activity revolving around farming, small businesses, residential, care-taking, and the hospitality and services industry (EDAW 2005). This entrepreneurial spirit can be cultivated with support of a business development organization that can give technical and financial support to locals wanting to start or grow a business.

Goals

One Eleuthera seeks to make support available to locals who otherwise might not be able to achieve loans through traditional means. We hope to spark an entrepreneurial spirit that will see growth in the farming , eco- and heritage tourism, craft making and fishing industries.

Purpose

While many locals have great ideas, they do not have the know-how or resources to accomplish these goals.
Projects
Rationale:
In the first quarter of 2014, One Eleuthera Foundation (OEF) committed to support the establishment of a Cooperative Credit Union to assist with empowering residents of Eleuthera by promoting savings, shareholdings, financial services and counselling, and encouraging Eleutherans to become owners and operators of their own financial institution.
Purpose:
On May 8th, 2014 a public meeting was held at Cancer Society Wellness Center in Palmetto Point Eleuthera to inform interested persons about the proposed credit union and ensured those in attendance had a clear understanding of the role and benefits of a Credit Union. This meeting was led by the General Manger of the Cooperative Credit Union League, Mrs Stephanie Jones-Missick and Senior Compliance Officer from the Department of Cooperatives Development, Carolyn Moss.
One Eleuthera Cooperative Credit Union (OECCU) sealed its registration and became official on Saturday, March 19 when it held its first Annual General Meeting at Eleuthera Arts and Cultural Center in Tarpum Bay Eleuthera.
Following the public meeting, a Steering Committee was established including Errol McPhee, Robyn Curry, Gacintha Deveaux-Gordon, Colin Moss, Shaun Ingraham and Walter Carey who guided OECCU's formation.
The following board and committees were elected during the March 19, 2016 AGM:
Board of Directors:
Addison Cooper
Errol McPhee
George Bullard
Ian Carey
Juanita Pinder
Robyn Curry
Shaun Ingraham
Credit Committee:
Kenwood Cartwright
Rosena Strachan
Shaun Ingraham
Supervisory Committee:
Agatha Bethel
Cynthia Cartwright
Karen Crean
Approach: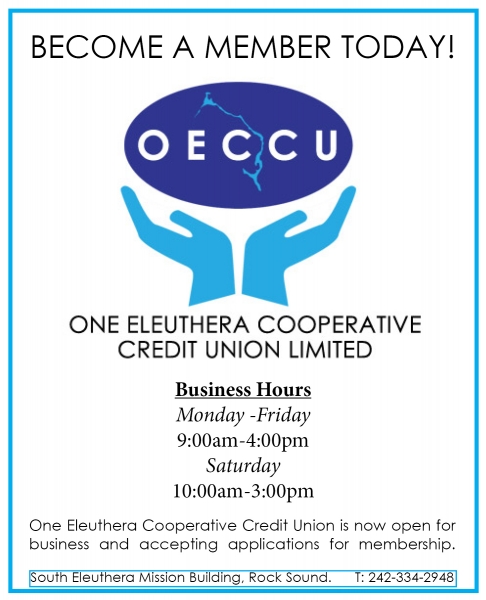 Initiative:
Economic Development
Partners in Education - PIE
Rationale:
Nearly 50% of seniors at public high schools in The Bahamas do not meet the requirements to graduate with a diploma, and are instead awarded leaving certificates which hold no value. A survey of one particular high school on Eleuthera revealed that 70% of its students did not graduate in 2015.
In The Bahamas unemployment rose from 10% in 2005 to 15.7% in 2014 and youth unemployment doubled to 30.8% since 2001. On Eleuthera, where CTI is based, unemployment is estimated to be as high as 70% in some area, according to the Eleuthera Master Plan 2005.
We believe that these two factors (under education and unemployment) are contributors to poverty and crime. Poverty is correspondingly disproportionately high, with poverty on Eleuthera, reported in The State of the Nation Report to be as high as 20.3% against the country's approximately 13% rate in 2014. 
According to statistics, education, unemployment, poverty and crime are all linked. Lack of education, can result in a persons' inability to find employment. Lack of employment can lead to poverty and further result in persons indulging in criminal activity to meet their basic human needs. One Eleuthera Foundation believes that addressing the need for education, training and employment will, overtime, improve issues of poverty and crime.
Purpose:
The Centre for Training and Innovation (CTI) is an education, training and business enterprise school located in Eleuthera, Bahamas. 
CTI offers educational opportunities for residents of Eleuthera, north, central and south as well as residents from other islands of The Bahamas.
CTI welcomes students who wish to explore the traditional heritages of Eleuthera, participate in and enhance cultural programs, develop new businesses, envision futuristic possibilities for the island and join forces with other stakeholders to contribute to the island's continued strategic development.
Approach:
The Centre for Training & Innovation (CTI), was birthed from One Eleuthera Foundation in 2015 with the launch of a short General Maintenance course in partnership with Bahamas Technical & Vocational Institute (BTVI) and other stakeholders . Nearly 100 Eleutherans participated in plumbing, carpentry, tiling and electrical installation courses.
CTI is registered with the National Accreditation and Equivalency Council of The Bahamas (NAECOB) and programs provided by the institution are approved by NAECOB.
CTI is comprised of the school itself as well as a hotel, restaurant, farm where students learn skills on the job, and an enterprise centre that was  created to assist with small business (new and existing) development, capacity building , and expansion. 
A unique offering of CTI will center on providing students with coaching and mentoring to assist them with their educational, personal and economic goals. CTI is a place where students can grow and develop, and become better citizens; contributing to building a vibrant economy for the island of Eleuthera and The Bahamas.


Programs at CTI
Our desire is that students of CTI will be distinguishably different as they exhibit a positive attitude to life and a commitment to serve and participate in the ongoing development of Eleuthera and The Bahamas.
There are three distinct areas of influence in the CTI Program:
Training

Innovation

Personal Growth
The curriculum is designed to offer opportunities in one or all of the areas of influence. Students are encouraged to process, integrate and apply their learnings through discipline, reflection and planned interfacing encounters. A graduate of CTI will display the areas of influence in their lives by the way they work, the way they live, how they relate to others and through their involvement in their communities.


Learn & Earn Program 
Students enrolled in the Learn & Earn Program have a unique oppportunity. This program consists of participation in basic courses such as Math, English, Introduction to Computers, and Personal Development. Additionally, students are trained in a discipline of their choice which consists of classroom time and hands-on training on actual projects with skilled practitioners. A stipend is also a part of the program.


Courses, Certificates and Diplomas
CTI currently offers professional development courses and certificates in areas of business, construction and hospitality. Click here for January 2018 offerings. We are currently developing additional courses, certificates and diploma programs that will begin in September 2018.
If you have questions do not hesitate to call us at 242.334.2711, visit our office or email CTI@oneeleuthera.org. 
For photos and up-to-date information about CTI visit us on Facebook.
Collaborators:
The South Eleuthera Mission
Bahamas Technical & Vocational Institute
Rationale:
On the island of Eleuthera, there is a huge lack of training mechanisms and resources for potential and existing entrepreneurs. As a result of this deficiency, persons are unable to successfully start, maintain and sustain a business. Secondly, even though locals have promising business ideas, their limited or nonexistent business knowledge and skills, and lack of capacity hinders their ability to carry out a proper business plan. Following this inability to plan lends to the inability to obtain funding for their business. Further, the island of Eleuthera lacks up-to-date technological capabilities, tools and equipment necessary for potential and existing businesses to thrive and/or compete in a global environment.
Purpose:
With no major employers on the island, Eleutherans tend to be very resourceful and entrepreneurial. Local residents typically engage in a variety of economic ventures with most activity revolving around farming, small businesses, residential, caretaking, and the hospitality and services industry (EDAW 2005). One Eleuthera Foundation and Eleutherans think this entrepreneurial spirit can be cultivated with support of a business development organization such as an enterprise center that can give technical and financial support to locals wanting to begin or grow a business. 
Approach:
To address these problems One Eleuthera Foundation will establish an enterprise center to enable persons to develop, start, maintain and sustain their businesses through strategic planning, business plan development and management, public relations and marketing, networking, legal advice, accounting and avenues for funding. A component of CTI, TEC will also host various seminars and workshops to include soft skills, resume writing, personal and professional development, technology and their uses. The Enterprise Center will include all necessary business resources such as a library, computers, wifi research lounge, and audio/visual technology for individuals who are able to do advance research without assistance. Through the enterprise center, a mentoring program will be implemented encouraging successful business persons to give advice to potential and upcoming entrepreneurs, hence initiating a network of business persons experienced, new and potential.
Collaborators:
The South Eleuthera Mission